63rd Annual Israel Folk Dance Festival and Festival of the Arts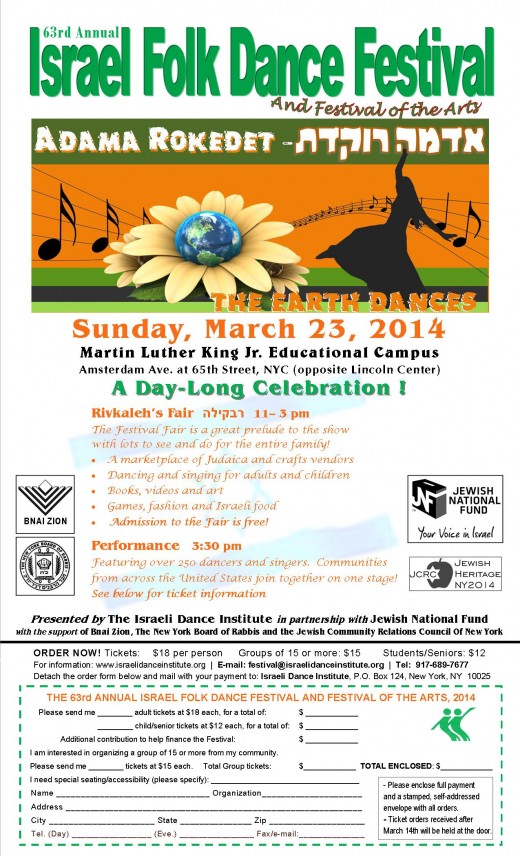 A TASTE OF ISRAEL IN A DAY OF DANCE AND FAMILY FUN
Please share with your friends!
63rd Annual Israel Folk Dance Festival
and Festival of The Arts
A Day – Long Celebration in Dance and Song
Sunday March 23, 2014
Rivkaleh's Fair (11:00 am)
JOIN US AT THE FAIR FOR
ISRAELI DANCING WITH MIRIAM HANDLER AND URI AQUA,
TOGETHER WITH DANCERS FROM MANY COMMUNITIES
Dancing for children and teens with Eve Cameron Franco
Fair offerings also include Judaica, Israeli CDs and videos, jewelry and crafts vendors, Israeli food, and a variety of activities for Israeli folk dance enthusiasts, families and friends!
Festival Performance (3:30 pm)
Embracing the theme, "Adama Rokedet – The Earth Dances", the Festival performance features over 250 dancers and singers in an exuberant, multi-media pageant that brings diverse communities together on one stage.
Through the universal language of dance, music and art, the traditions and spirit of Israel and Jewish heritage are transmitted in a format of enormous charm and appeal to people of all ages and cultural backgrounds.
Ted Comet, Honorary Executive Vice-President of the American Jewish Joint Distribution Committee and Executive Vice-President of the World Council of Jewish Communal Service will be honored at the Festival for his lifetime of service to Israel and world Jewry. When he was Director of the American Zionist Youth Foundation from 1956-68, Ted produced the Israel Folk Dance Festival and founded the Salute to Israel Parade. He believes that "Israeli folk dancing is not only an exciting means for personal expression but an important way for deepening the connection to Israel and Jewish culture. The Israel Folk Dance Festival is a celebrating experience for both the performers and the delighted audience".
Venue
Martin Luther King, Jr. Educational Campus
Amsterdam Avenue at West 65th Street, NYC
(opposite Lincoln Center)